CDMX & I
During my last trip to CDMX (Mexico City) I had a small gap of time in which I spent the entire day exploring by myself and it was simply perfect - haha, I promise I missed you Giray! This was my first time being in the city alone, with no schedule to follow and no debating of where or what we should eat - it was awesome!
My day started around 8am - I had made an appointment for a trim and styling with one of the best hair stylists in the city, Brian, at La Belleza Del Quetzal. OMG - he brought my hair to life and styled it just like I always dreamed of having my hair, hahaha, dead serious!
I couldn't find a better photo of myself that showed all the beautiful wave action I had going on, so here's this very exciting picture of me with a bunch of cute hearts <3
After my quick little beauty sesh I went to grab a much needed healthy breakfast (too many tacos and tortas and pan dulce). Rather than jump into an UBER or cab I decided to walk from the beauty salon and see where i'd end up. I was in a small burrow of the city I wasn't familiar with so it was exciting to just walk around, admiring all the colors and aromas of the different foods cooking literally all around me - on the street, sidewalk, homes, restaurants.
I ended up at this super adorable place called Alma Pura. It was an all natural, organic foods restaurant that offered nothing but delicious healthy clean foods. I ordered an acai bowl that came with bananas, mango, maracuya, raspberries, coconut and some granola - MMmmm - it was both delish & beautiful! You can check out their beautiful yummy foods on IG below if you'd like, just click their profile photo below - i'm warning you though, you WILL get hungry and you WILL crave their food and you WILL wish you were there right now! LOL!
After a yummy breakfast I walked a bit further, going in and out of the various shops & boutiques I came across along the way. It was really cold that day and I kind of felt like I was about to get sick so I went into this tiny french restaurant and ordered a hot tea - it too was yummy and the place really looked and felt like one of those French street cafes with the cute chairs and tables lined up outside. I drank my tea, called an UBER and headed straight to the Museo de Antropologia. I've been to CDMX several times and for some reason never made time to visit this museum, so that day, when all I had was nothing but time, I went and spent a few long and very peaceful hours there. It was wonderful.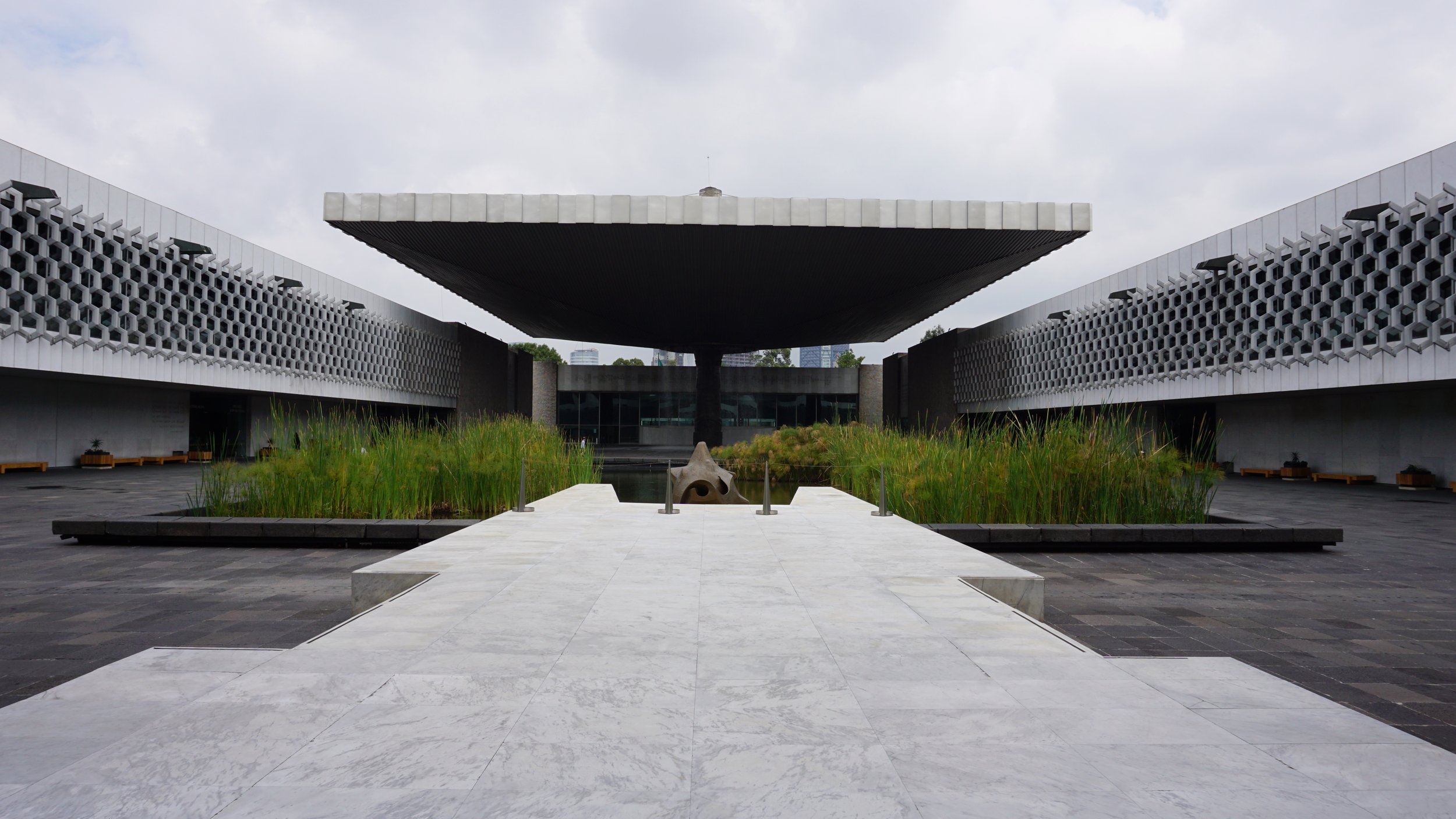 Pedro Ramirez Vazques' building is a work of art all on it's own. The architecture is simply stunning. I literally sat here, admiring the buildings' lines and details, the people walking in and out for over an hour.
Taking selfies with an actual camera is way more difficult than you'd think it'd be, haha. I guess this would be the only downside to traveling alone - no one is there to capture your moments in special spaces, lol.
It was getting closer to dinner time and had not eaten since my yummy acai bowl so I was ready to eat! I came across yet another beautiful place called Lardo. I decided to have something light and ordered a potato and leek soup with some bread and a hot tea. Yes, it too was amazing and delicious and I highly recommend it.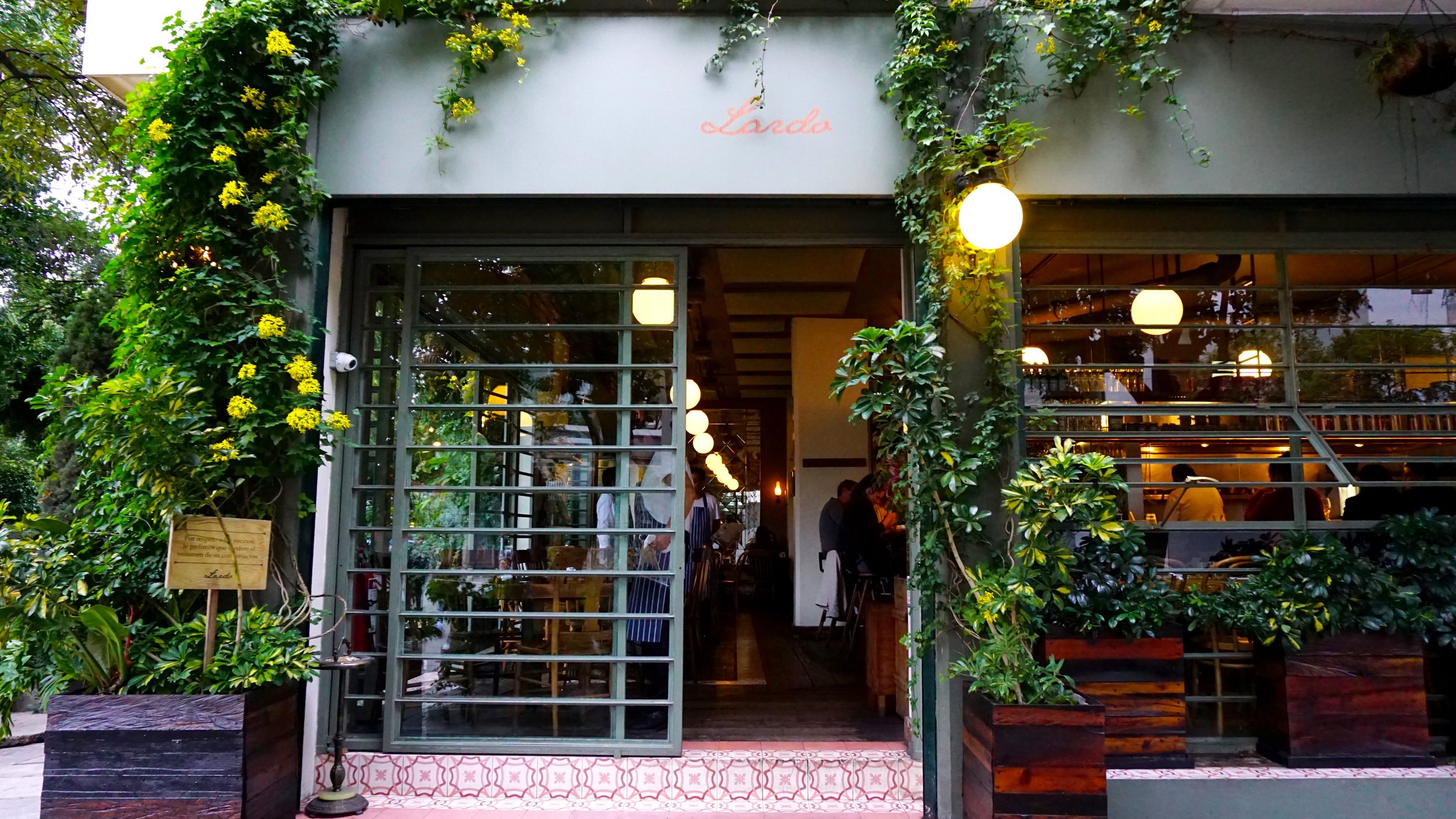 Everything here was awesome - the food, the service, the place, the plants, the amazing people-watching you could do through the open spaces and windows they have, lol. Highly recommend this place!
You can check out their IG here and website here. I really wanted to order dessert but I was out of time - I had made plans to go meet with my cousin and her bf at this cool little joint called Salon Rios (you can see more on their IG here and fb here) - My cousin and I have been estranged for years - lol, so it was nice finally connecting and meeting her in person. She's such a cool and beautiful person, both inside and out! We shared some laughs and stories from our childhood, drank mezcal and ate yummy tacos - it was awesome. We said our goodbyes, and hugged, and headed home.
I was going back to Austin the next morning so I got home around 1130ish and started packing my things when all of a sudden the chandeliers started to sway, back and forth slowly, then faster, and then the entire loft shifted and I realized there was an earthquake happening. I ran down from the 3rd floor as fast as I could out to the street. There was a lot of people out in the streets with their kids and pets, some in pijamas like myself. Once everything seemed to stop we went back in and turned the news on to see the damage the earthquake had done to the city. It turned out to be the largest earthquake in over 20 years. It was scary. I had never experienced anything like this before. I couldn't sleep very well, or at all that night - what if there was a 2nd hit? I woke up the next morning bright and early to catch my flight and it was as if it was a ghost city - no one was out, no traffic...dead. I thankfully, made it safe and sound to the airport and then finally home <3
Spending the day with just myself was so great and therapeutic. I think it's SO important for everyone to make a little time for their own person, even if it's for a few hours, even one hour is good. Treat yo self to some you time!
Cheers to more days like these, ammi right?!
#HappyTravels
#TheSpottedBannana